Advent: The Love of Christ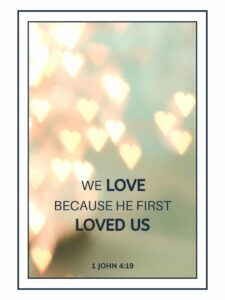 By: Laura Varela, Director of United4Hope
Advent reminds us that Jesus loved us so much that he left heaven and came to earth to redeem us. He was despised and rejected by men, a man of sorrows and acquainted with grief; and as one from whom men hide their faces, and we esteemed him not (Isaiah 53:5). He lived a perfect, sinless life. Then while we were still sinners, Christ demonstrated his love for us when he died for us (Romans 5:8).
Christ set the ultimate example of what it means to truly love. He committed himself to the good of others, even dying for those that hated him. Maybe C.S. Lewis was thinking about Jesus when he said, "Love is never wasted, for its value doesn't rest upon reciprocity."
As I looked through United4Hope volunteer hours this week, I received a powerful reminder that Christ's love is demonstrated through His Church. Believers in Christ are called to be "love with skin on," and I can't think of a more practical way to show Christ's love than how you show up in your school partnerships. We show Nashville the love of Christ when we show up for the good of students, teachers, and administrators, and you do that in so many ways.
How does partnering with public schools show Nashville the love of Christ?
Demonstrating love is not a series of activities or a number of hours served, but a posture of the heart that continually asks, "How can I show Christ's love to my partner school at this exact moment? What does it look like to follow His lead?" Showing Christ's love might include tutoring that student; it also may be in that conversation with the teacher where you offered an encouraging word. Yes, it's in donating supplies to the school, but it's also in how you helped with the school event and supported parents. Yes, it's in collaborating with your Community School Coordinator, and it's also in how you helped to organize the resource room so supplies are easily accessible. Ultimately, we show the love of Christ when we allow Christ to guide our hearts, our words, and our actions and are in tune with his Spirit in all of our interactions, big or small, for His glory.
My prayer for you is to rest deeply in the all-encompassing love that Christ has for you and to spread the aroma of Christ everywhere you go.
Romans 8:38-39 – For I am sure that neither death nor life, nor angels nor rulers, nor things present nor things to come, nor powers, nor height nor depth, nor anything else in all creation, will be able to separate us from the love of God in Christ Jesus our Lord.