Operation Andrew Group's Fall Benefit: CALLED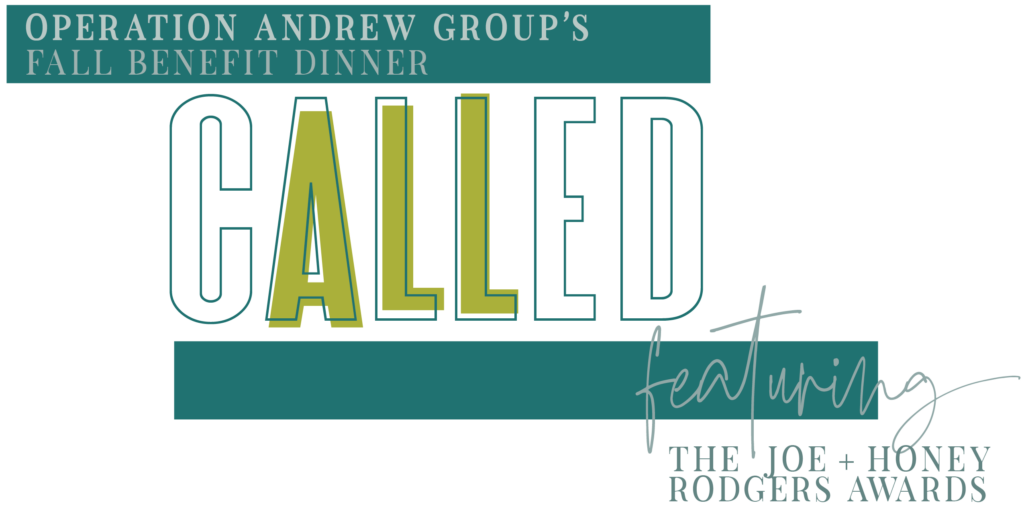 Operation Andrew Group's Fall Benefit Dinner, CALLED, is coming up on Monday, November 7. We will be presenting the 2022 Joe and Honey Rodgers Civic Leadership Award to a few incredible recipients and hearing about the impact they have made through their Christian service, humility and community engagement.
There are a few ways you can be involved:
Attend the Event – We would love for you to join us at Belmont University's Fisher Center on Monday, November 7 at 6PM. Individual tickets are $150 each. We are expecting to sell out, so RSVP today by clicking HERE!
Make a Donation to Operation Andrew Group – If you are unable to make it to the event but would like to make a donation to help OAGroup continue to grow its ministries, you can make a donation by clicking HERE or by mailing a check to P.O. Box 128045, Nashville, TN 37212.
Pray – Please pray that our honorees would feel valued as we recognize their impact on the city of Nashville. Also pray that we would reach our goal of raising $400,000 to support the ongoing work of Operation Andrew Group. This Fall Benefit is a crucial part of ensuring that we are able to continue to grow our work bringing churches together in the areas of education, mentoring and pastor engagement.