Partner Spotlight: Jefferson Street Missionary Baptist Church and Robert Churchwell Elementary
Jefferson Street Missionary Baptist Church and United4Hope were recently spotlighted at the Q2 Robert Churchwell Elementary School Partner Meeting. What a joy to hear Jefferson Street church coordinators, Fannie Holmes and Florence Woods, talk about their history and involvement in their church's United4Hope partnership with Churchwell.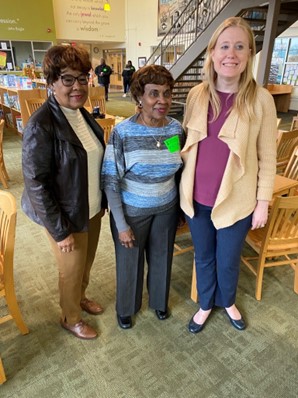 It would be fair to ask what Ms. Fannie and Ms. Florence haven't done in service to Robert Churchwell Elementary. Serving as co-coordinators since 2019, they have recruited and served as reading buddies, lunch buddies, and teacher aides. They have adopted teachers and provided encouragement to them throughout the year. They have headed up Thanksgiving food drives and Christmas toy drives for the families. They are in constant contact with their Community School Site Manager, Tiffany Rhodes, to strategize new and better ways to serve the students, staff, and families at Churchwell.
Most importantly, Ms. Fannie and Ms. Florence, along with the church body at Jefferson Street, embody faithful presence, showing the love of Christ at Churchwell.  The staff at Churchwell know they can count on Ms. Fannie's ever-constant wit and Ms. Florence's no-nonsense, loving words of guidance. We know that their work is making a kingdom difference in the lives of many, and as Ms. Fannie says, "we're just getting started! We're only 25!"
Thank you, Jefferson Street Baptist, for your wonderful work in our community and the Kingdom.