U4H recognizes that, with nearly 900 churches in Nashville, congregants are the largest pool of untapped volunteers in the city.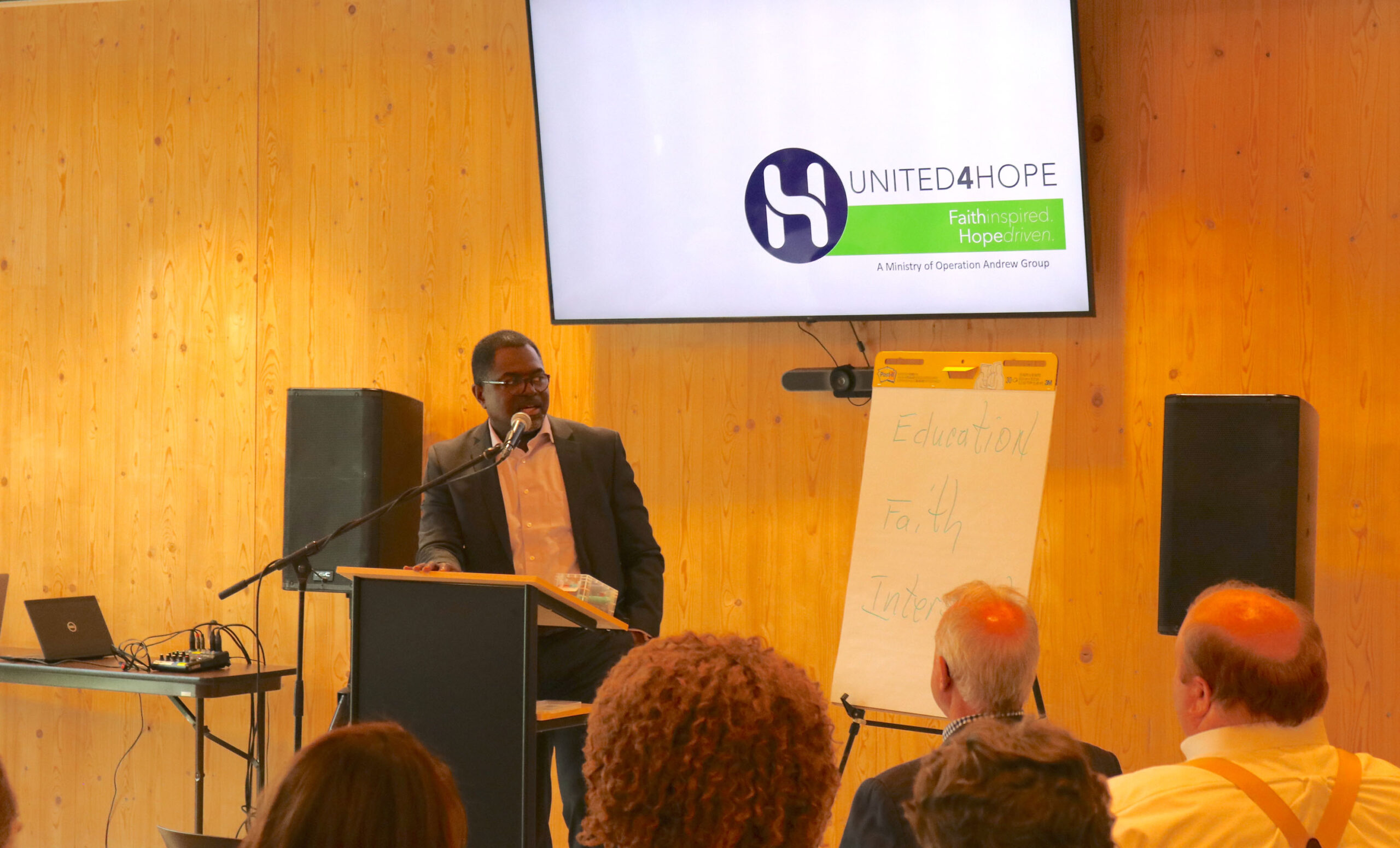 Dr. Scott, senior lecturer at Harvard University, speaks with community leaders in the summer of 2023 about the impact of United4Hope and the importance of connecting the faith-based community to public schools.
At the end of the 2023-2024 school year, United4Hope staff, church coordinators, principals, and school staff and leadership gathered to celebrate the end of a wonderful year of school/church partnerships in Middle Tennessee.
United4Hope (U4H) was created in 2011 as the education initiative of Operation Andrew Group, a Nashville nonprofit comprised of a coalition of pastors from diverse denominations seeking to unite, partner, and love. It was formed out of a desire to serve Nashville's schools in such a way that if the initiative ceased to exist, the city would notice.
U4H strives to create a city-wide network of inter-denominational, multiracial churches partnering with public schools. This network encourages churches to connect with one another to share stories and partnership ideas while also challenging each other to continually deepen their partnership. The uniqueness of the program has garnered attention from Harvard University's Leadership Institute for Faith and Education (L.I.F.E.) as referenced here, and U4H is now part of their designed cohort.
Currently United4Hope (U4H) brings together middle Tennessee churches to partner with MNPS (Metropolitan Nashville Public Schools) and the FSSD (Franklin Special School District) through student achievement, staff encouragement, family engagement, and in-kind contributions.
U4H recognizes that with nearly 900 churches in Nashville and nearly 150 churches in Franklin, congregants are the largest pool of untapped volunteers in Middle Tennessee. U4H serves as a channel to connect middle Tennessee churches to MNPS and the FSSD to serve each district's needs while following a guided framework that both respects separation of church and state and trains faith-based volunteers on best practices for school partnership. Since its inception, U4H has worked closely with school leadership to understand how schools can utilize additional community support to remove barriers to students' learning. Because of this collaboration, U4H is tasked by school leadership with finding a church community partner for all 162 Metro Nashville Public Schools and 8 Franklin Special School District Schools.
To ensure partnerships are effective, U4H has created a partnership roadmap of best practices for volunteer leaders that have proven to lead to successful partnerships. Additionally, professionally development opportunities are provided for volunteer leaders through biweekly newsletters and continuing education workshops, such as cultural humility training, an asset-based approach to partnership, volunteer recruitment and retention, and poverty simulations. U4H staff walk beside each partnership and offer individualized coaching to ensure school/church partnership success.
Kevin Hawley
Board Chair
Melissa Roe
Vice Chair
Tammy Brewer
Secretary
Joe Hutts
Treasurer
Linda Leathers
President, ex officio
Mark Barrett
Carlina Bell Rollins
Sandy Bledsoe
Jordan Echols
Howard Gentry
Tam Gordon
Guy Griffith
Davis Mello
Wes Turner
Richard Williams